In the Rye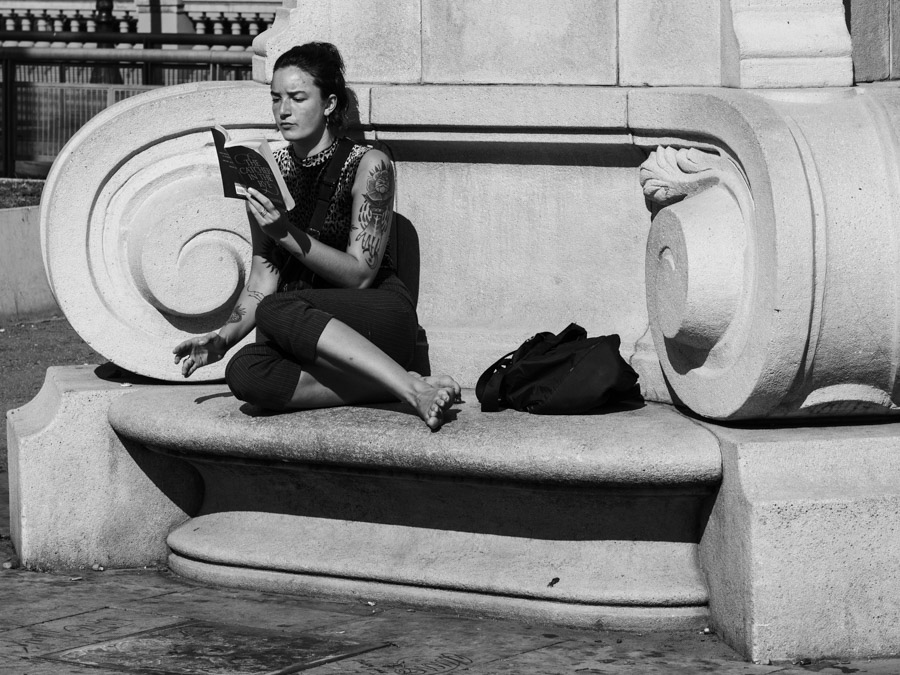 Reading The Catcher in the Rye, Barcelona, 2017
Originally intended for adults, it is often read by adolescents for its themes of angst and alienation, and as a critique of superficiality in society. The novel also deals with complex issues of innocence, identity, belonging, loss, connection, sex, and depression.

~ Wikipedia, The Catcher in the Rye
It was five years after I had photographed a barefoot young woman reading in a Barcelona park before I realized she was holding a book with a recognizable English title. When I first read The Catcher in the Rye myself, decades before making the photograph, I wanted to slap some sense into Holden Caulfield; now, I have more sympathy.
It's been a strange five years since I saw her reading in that park. Facts became false opinions, truth became fake news. A pandemic, empty streets and highways, the loss of friends and family. For a while, mask wearing became more ubiquitous on the sidewalks than people looking at their phones. An insurrection, a war in Europe, extreme weather.
Some believe that the ending of Catcher in the Rye is optimistic. Let's hope they are right.
Tap any thumbnail to see the full size images ...